Chicken souvlaki with tzatziki sauce
You will need
- Chicken fillet - 1 kg.
- vegetable oil - 1 tbsp.
- garlic - 7-8 teeth
- salt - to taste
- lemon juice - 2 tbsp. l
- oregano
- thyme
- bamboo skewers
For the sauce:
- Unsweetened yoghurt - 200 ml
- garlic - 1-2 cloves
- small cucumber - 1 pc
- Apple cider vinegar - 1 tsp.
- vegetable oil
Instruction
Chicken fillet cut into cubes into 2-3 cm. Pieces. Put the chicken in the dish and cook the marinade - mix the vegetable oil (olive or other, to taste), chopped garlic, lemon juice, oregano, thyme and pour the chicken mixture. Leave the chicken to marinate in a mixture of butter and herbs for two to three hours in the fridge.
When the chicken fillet is soaked with marinade, get it out of the fridge. Take a griddle with a thick bottom and heat the oil on it. Take bamboo skewers, check that they fit into a griddle and string chicken on them. Put the skewers with chicken in the pan and fry until cooked, turning over periodically.
Prepare Greek Dzadziki Sauce. To do this, take a savory yogurt, put it in a dish, grate cucumber, squeeze garlic, put it all in yogurt, add a little vinegar and olive oil. Mix everything well and let cool in the fridge. You can also add a little dill to the dzadziki.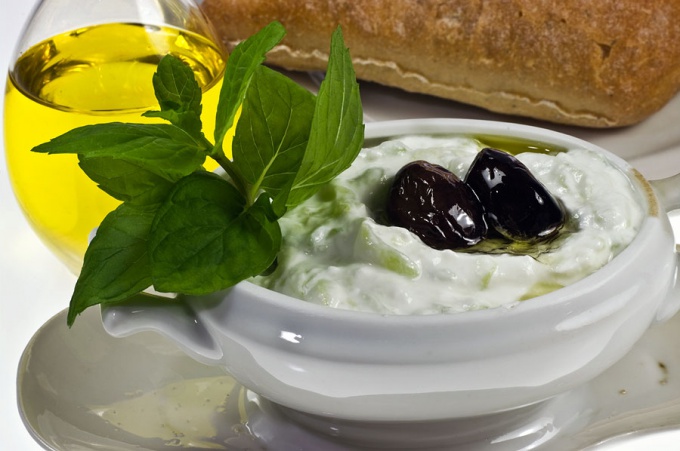 When souvlaki are cooked, remove them from the pan, but do not remove the meat from the skewers. Place souvlaki on a wide dish or on pita (or pita), tzatziki sauce served in one large bowl or divided into portions. When serving, souvlaki should be warm and tzatziki sauce cool. Decorate with olives and greens.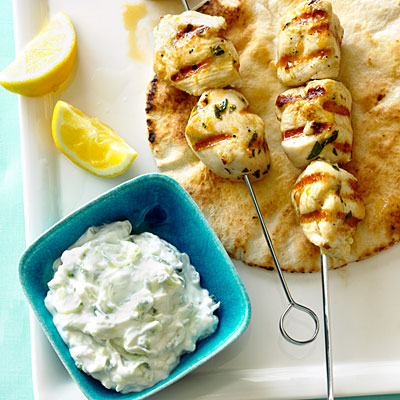 Related News
How to make sauerkraut at home
Victoria Beckham and Eva Longoria: a cheerful bachelorette party in Cannes
How to cook dolma
Top names for cat and cat
Quick ways to clean the keyboard
Gooseberry jam - recipes with oranges, lemon and currants, without cooking. How to cook emerald jam royally with walnuts and cherry leaf, a royal recipe
Pictures from straws-Sailing trip
Modern ATVs