Tip 2: Rest in Cairo
Egypt's capital Cairo is one of the largest cities in Africa. Locals often call their city Masr. In Cairo, there is a huge number of historical monuments and all sorts of attractions, but it is a noisy and dirty city. During the season, Egypt is very popular among tourists. Some of them are sent inland, using Cairo as a starting point for further travel to the resorts.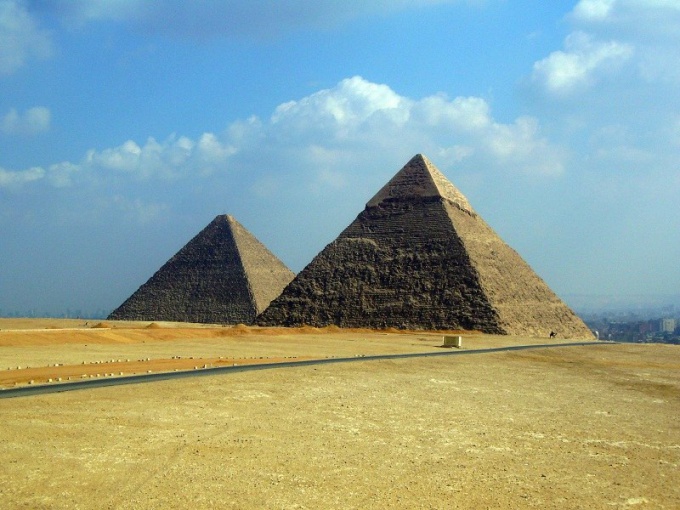 Cairo climate
Cairo is located in the desert, like the whole country, so the climate here is appropriate: hot and arid all year, with almost no rain. The coolest time of the year is winter here, at this time the air humidity rises somewhat, and the temperature sometimes drops to 13-19 degrees Celsius.
In the summer, from May to August, in Cairo, the heat comes, difficult to tolerate for people in cooler regions, the temperature rises to 45-47 degrees.
The best time to visit Cairo is considered the "cold period", which lasts from December to March.The air temperature rarely exceeds 25 degrees Celsius, it rains, if there are, rare enough to spoil the rest.
Arriving in Cairo in the winter, remember that there is no central heating in the city, and heating devices may not be in all hotels. At night in the room sometimes cool, it is worth taking a warm nightwear.
Sights of Cairo
In Cairo, there are a lot of interesting places and objects, here are concentrated the most important cultural attractions not only of Egypt, but of the entire region. Also, despite the fact that the country is Muslim, there are enough all kinds of entertainment in the city. Here you can find a lot of great nightclubs, bars and restaurants. Very developed in Cairo and shopping: shopping centers and malls will surprise you with a variety of products, prices and services.
A lot of different museums will not leave indifferent any guest of the city. One of the main ones is the Egyptian Museum, which contains many exhibits telling about the history of the country. Here you can find both archaeological values ​​and modern artifacts.
Cairo stands on the Nile River, which gave birth to the entire state, one might say, fed by its waters this ancient civilization. Be sure to take a river walk along the Nile, it is worth it!
Probably the most famous landmark of Egypt, which can be reached from Cairo, is the Pyramids. These monumental buildings and today amaze the minds of humanity, they are one of the greatest achievements of ancient culture.
Traditional and ancient architecture in Cairo is widely represented by mosques made at different times and in different styles. It is interesting to stroll through the historical areas of the city to feel its real life.
Related News
How to make gravy with meat
Masquerade for February 23
How to help yourself if blown neck
Solar jokes for spring mood
How to finish the reception
Dog dreams