Veal in wine sauce - we cook in Italian cuisine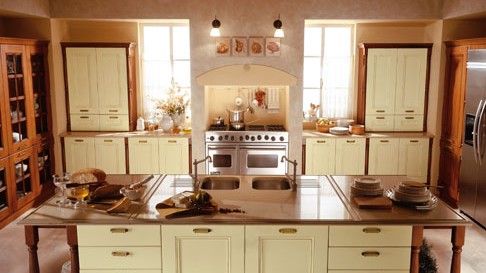 It's hard to find someone who wouldn't like Italian dishes: light and nourishing, elegant and simple, and besides, they are extremely tasty.
In a country where culinary excellence is so highly developed, they are able to create unique kitchen furniture. If you carefully look at the Tuscany Furniture Online Catalog page in the Italian Kitchen catalog, you can see that Italian furniture makers are distinguished by convenience, comfort and careful forethought of every little thing: from the location of the shelves to the shape of the furniture. After all, the owner, who creates culinary masterpieces, nothing should distract!
Experiments in a stylish kitchen
Kitchens from Italy are just inspiring for unusual experiments, and dishes prepared in the midst of a stylish and elegant setting are much more tasty!
Each of the models has its own characteristics, and today we will cook in the kitchen "Aran Greta".This model is made in a popular country style, it is created from an array of chestnut and just radiates sunlight. The kitchen is dynamic, ergonomic, and many components will allow you to create a convenient space for the hostess with a variety of needs. A large number of comfortable and stylish shelves will comfortably accommodate all the spices and herbs that are so popular in Italian dishes, closed boxes are suitable for storing table linen and appliances, and glazed cabinets and lattice facades give the headset lightness and Mediterranean lightness.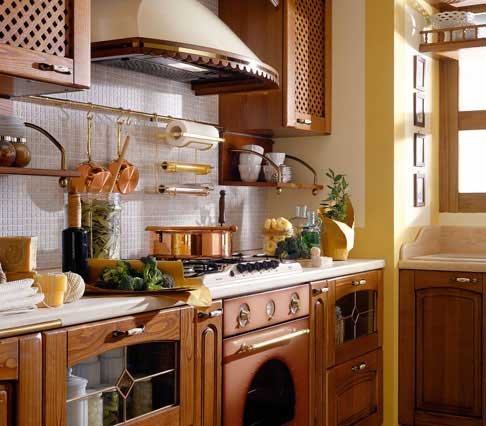 So, veal in wine in Italian, cooking in Italian cuisine!
We need:
1 kg of veal (can beef tenderloin)
Bacon 50g (diced),
250 ml of red Italian wine (Chianti type,
1 medium carrot,
Celery (about 20 grams of root)
1 medium bulb,
bay leaf,
cinnamon powder (0.5 tsp),
thyme to taste
Butter 20g,
Olive oil 4 tbsp.
any meat broth 4 tbsp.
Tomato paste 1 tablespoon.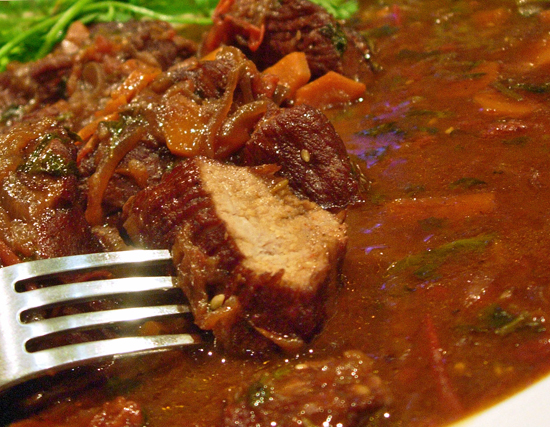 The meat (solid piece) is cut with a knife in several places and we insert bacon into the cuts. Then put in a glass or enameled container, add wine, finely chopped root vegetables, all spices. Marinas about twelve hours (you can put on the night).
Then put the meat in a saucepan, add butter and olive oil, broth, tomato paste and simmer (even, rather, stew) for two hours on low heat.
They serve meat, cut into portions, with a salad: tomatoes, greens, cucumbers, peppers and, of course, season the dish with olive oil and sprinkle with grated parmesan.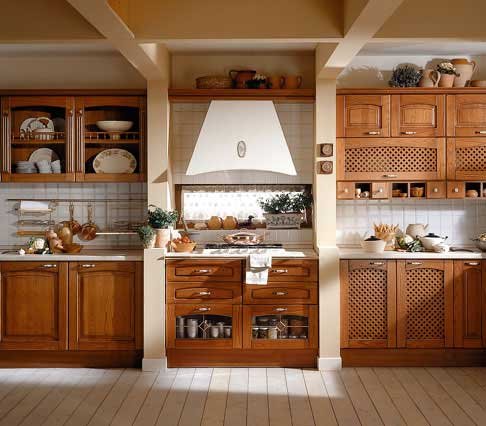 You can buy Aran Greta headsets or other cuisines from Italy at the Tuscany Furniture store. The catalogs include models from the best manufacturers, made in the most diverse design: you can find an antique-style kitchen, modern high-tech, modern, and so on.
Related News
Ornamental Tree
Baguette with smoked sausages. Your loved ones will be delighted
Potato balls with cheese
Top names for cat and cat
What is phillumeny
The master carved out of plywood an unusual table, from which all households were delighted
How to treat pets from depriving
Bead embroidery on clothes is both beautiful and a good way of relaxation